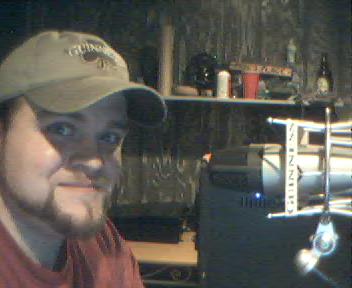 Hello I'm Paul Rj Muller, Technologist, IT Worker, Geek, Husband and Father.
This is The whole geek and the background of the geek.
I am a Technologist from the Philadelphia area. In my day job I work at Temple University as the technical support personnel and contact for the Architecture Department. I run the lab consisting of both Macs and PCs, the departmental server farm, and maintain the faculty machines as well
I'm all self taught when it comes to computers. I have a degree in Anthropology but picked up my current skill set through books, trial and error and just plain playing around with things. I have extensive experiance managing servers (Windows, Unix, Linux), running a dual OS (Mac and Windows) lab environment, programming and web design.
I picked up quite a bit of Public speaking experiance while in High School as a non-voting Member of the Philadelphia Public School Board of Education. Through this wonderful opportunity I worked with some fantastic organizations such as Champions of Caring , the National Student Leaders Association and the City Wide Student Government in Philadelphia, of which I was president. That year alone I hosted a TV show, spoke to the press, gave public speeches in advocacy for 218,000 students of the district, and spoke in a Nationally televised forum at the National Holocaust Museum as a Champion of Caring '98. The same year I was honored to receive my Eagle Scout Award from the Boy Scouts of America. Â  Without these experiences I doubt I would have had the confidence or the work ethic to make this site what it is today.
I'm an admitted caffeine junkie with a penchant for sharing my thoughts. I am a consummate procrastinator who is never happy with his own work. I never set out to offend, although I have been know to do so as a side effect. Most posts are informative in nature but some are completely tongue in cheek. Take everything with a grain of salt and a dash of thyme. Never spelled correctly right off the bat, but usually corrected out of outright embarrassment.
CaffiNation related inquiries please direct your questions to:
CaffiNation@gmail.com
The CaffiNation Podcast is a subsidiary of Puzzle Piece Productions. Puzzle Piece Productions is a content creation and consulting company founded in 2002. Puzzle Piece Productions offer a full range of services including podcasting and new media creation, consulting in such areas as IT Infrastructure planning and implementation, graphic and web design, software and hardware training.
Puzzle Piece Productions Contact Information
Producer / Editor / Owner: Paul Rj Muller
info@puzzlepiecepro.com