Backpack brings joy to the masses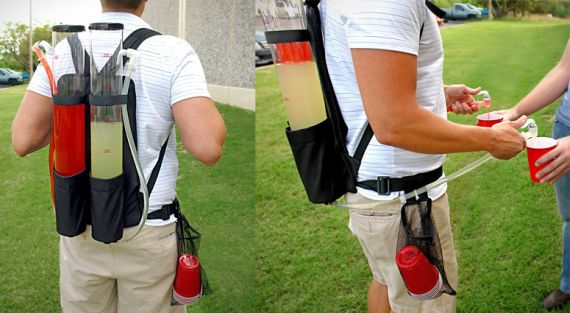 You've heard the Ghostbuster's quote, "don't cross the streams"?  Well this is what happens when you do, Magic. A Tailgating  Piece de Resistance. it is a liquid refreshment station like no other labeled the Tailgater Dual Tank Back Pack Drink Dispenser, and for only a scant price of 40 dollars you two can be a one man serving margarita machine, and daquri crew. If you want to get all fancy have rum and coke in one, and Gine and tonic in the other and make a impromptu Long Island Iced tea. Yes i know you need more alcohol than that but hey buy a second backpack and go Four Barrel Crazy! The possibilities are endless.
I like this idea… I like it a lot. This is what happens when the double beer drinking hat grows up and gets serious about it's job.