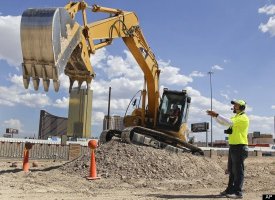 What little kid ever looked at a bulldozer, backhoe or any other piece of heavy equipment and didn't immediatly want to drive it around and dig a giant hole somewhere nice? What city in the world specializes in making dreams come true, and we don't need a mouse for these bits of fun.
Las Vegas has topped itself, and installed a giant sandbox near the strip, complete with all kinds of OSHA  hazards and loads of fun. Dig This actually involves more than just  saddling  up and going for it, there is a  safety  class and on the job training I know that I for one would love the chance to run some heavy  equipment  with a yard margarita in hand and    free reign to dig the biggest trench I could.
Guys in the construction industry are probably rolling their eyes right now, but hey your job is cool to other people, enjoy that.  What an elegant solution to the downturn in new construction that has plagued Las Vegas, take the Equipment and charge people to run it! Lets face it people,  no one wants to go on vacation and explain to people how to burn cd's or fix a broken windows install. Dig This  is a fantastic idea, no matter how you slice it. The have packages that allow you to dig, push and maim the landscape as you wish.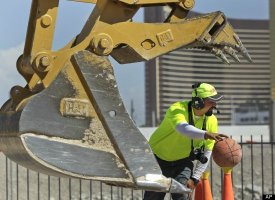 Priced at anywhere from $210.00 for an hour and a half to the big gun of a full day of play with both the bulldozer and the excavator, which runs around $750.00. There seem to be a couple of other specialty packages  involving  guns, a game of golf using the heavy equipment and a spa treatment. Only in Vegas Baby!