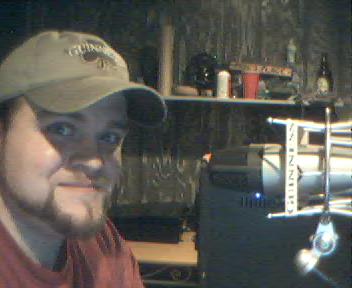 Hello, I'm Paul Rj Muller, Technologist, IT Worker, Geek, Husband, and Father.
This is The whole geek and the background of the geek.
I am a Technologist from the Philadelphia area. In my day job, I work at Temple University as the technical support personnel and contact for the Architecture Department. I run the lab consisting of both Macs and PCs, the departmental server farm, and maintain the faculty machines as well
I'm self-taught when in both design and Information Technology. I have a degree in Anthropology but picked up my current skill set through books, trial, error, and just plain playing around with things. I like to sum up my job by saying that I make pretty things, I like blinking and shiny things. Everything else is gravy.
I picked up quite a bit of Public speaking experience while in High School as a non-voting Member of the Philadelphia Public School Board of Education. Through this wonderful opportunity, I worked with some fantastic organizations such as Champions of Caring, the National Student Leaders Association and the City Wide Student Government in Philadelphia, of which I was president. That year alone I hosted a TV show, spoke to the press, gave public speeches in advocacy for 218,000 students of the district, and spoke in a Nationally televised forum at the National Holocaust Museum as a Champion of Caring '98. The same year I was honored to receive my Eagle Scout Award from the Boy Scouts of America.   Without these experiences, I doubt I would have had the confidence or the work ethic to make this site what it is today.
I'm an admitted caffeine junkie with a penchant for sharing my thoughts. I am a consummate procrastinator who is never happy with his own work. I never set out to offend, although I have been known to do so as a side effect. Most posts are informative in nature but some are completely tongue in cheek. Take everything with a grain of salt and a dash of thyme. Never spelled correctly right off the bat, but usually corrected out of outright embarrassment.
CaffiNation related inquiries please direct your questions to:
CaffiNation@gmail.com