As a big fan of the Legend of Zelda franchise, I know that whenever Nintendo wants to celebrate one of the releases, something always turns into gold. The original Nintendo had the gold cartridge, Gameboy had the gold handheld GameBoy, N64 had the gold console with a gold controller. So it would only be right to celebrate 25 years by bringing out the gold.
As part of the 25th  Anniversary of Legend of Zelda, Nintendo will be showing their celebration by releasing "Skyward Sword" with a special bundle pack. On November 20, along with the game, you could also get a gold Wii controller and a Legend of Zelda 25th Anniversary Symphony Concert music CD.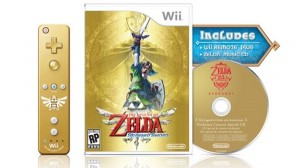 For $69.99, the 25th Anniversary bundle can be yours. If all you want is the game, it will be just $49.99. Personally, I might have to go the extra $20. You can also check out Legend of Zelda 25th Anniversary website, and check out some the cool features.