With the release of Gears of War 3 just 8 days away, what better way to get pumped up for it, then seeing a bike dedicated to Gears of War. Paul Teutul Jr., also know as Paul Jr, and the people at PJD have built a bike to for epic games in celebration of their release of Gears of War 3. If you do not know who Paul Jr. is, he popularly know as on of the sons on the show American Choppers series.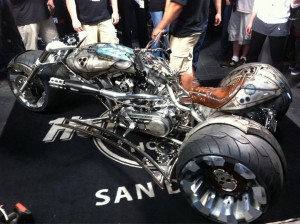 The 'Gears of War' bike was revealed at Comic-Con 2011. Paul Jr Designs, known for the designs of the Anti-Venom Bike and the Cadillac Bike, designed the bike for Epic Games, with the inspiration  from Gears of War 3. With big wheels in the back, COG rims, and a paint job to match the Gears of War Delta Squad armor.
This just one of the two bikes. Best Buy will be giving the second bike away in a sweepstakes, that will will be revealed during the launch party on Spetember 19. You can watch the bike being built on Discovery Channel's American Chopper episode, which will air September 12, 2011.
'American Chopper' creating 'Gears of War 3' Motorcycle