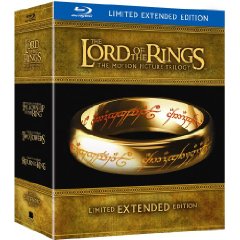 Ok so I love these books, I love these movies. This set needs to be in my house. No word on when it will be released but much like anything else involing devoted fandom there are some rumbles within the pit.
Apparently New Line Cinema is releasing a BluRay Theatrical version first in an attempt to pull in as many duckets as they can. Fans want to big series. I want the big pack. I ahd to wait extra time to get the special Directors cut dvd's with the statues ect. I will by the BluRay version.. It would be nice to have a date to go with the release though.
Preorders aren't too bad though when you consider the amount of material going to be in this set. I wonder if there will be goodies? I might have to wait for goodies… Like a shard of Narsil, that would be awesome.
The Lord of the Rings: The Motion Picture Trilogy (Limited Extended Edition + Digital Copy) [Blu-ray]