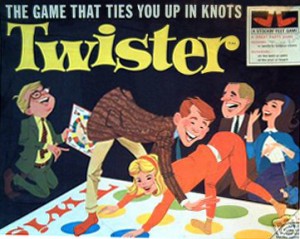 There is not one person who can say they have not played the game of Twister. It is a game that brings families and friends together…literally. You would never think that the game could be played on an Xbox360. Well, Twister is about to get a major makeover.
Majesco, who has had big hits such as Zumba Fitness and Cooking Mama, is bringing Twister to Xbox 360's Kinect. However, it will be nothing like the actual game. There will be not mat and no spinner. So the question that comes to mind is, how do you play the game of Twister without the 2 most important pieces?  "This is using your full body as a game piece" said  Christina Glorioso,  Majesco's chief marketing officer.

Twister Mania, the official name of the game for Kinect, will have 3 different modes, and 16 different ways to play the game. You can have up to 8 players at a time. The new version of the game brings so much more than just spin and contort. Twister Mania will be releasing sometime in November 1, 2011. Although Kinect games are becoming more and more popular, we will have to see how much success this will be. For $49.99, you will be able to enjoy the fun game of Twister Mania.