Overall the movie Metropolis is greater than the sum of its parts. Quite literally. The movie was  originally  filmed in 1927, and it has  existed  in quite a few different incarnations, sometimes the movie shown is 30 minutes longer than the other versions. This is the  origin  of the directors cut.
If you want to geek out try and pick apart the problems this movie has gone through, framerate issues, 24 or 16 fps. which is better or more correct?
But the image above is an Ambiagram, a word construct which looks the same when held upside down and rightside up. Sometimes the words and meanings are different as see in this lovely Ambiagram mug.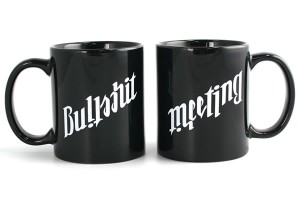 Most people who have office jobs would love this mug
Either way the site where this was pulled from is a fantastic resource for different fun ambigram designs. if thats your thing you should check them out. I found myself loosing quite a few minutes in their archives.
"Metropolis", rotational ambigram « unterart ambigram design.