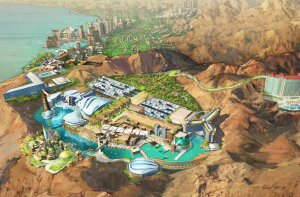 So Disney has Star wars, the enterprising folks in the Middle Eastern nation of Jordan are trying to bring the  fantasy  futuristic  world of the 23rd Centry to life in a larger than imagination theme park.
You'll be able to soar in a real life space flight simulator  experience  the wonders of advanced technology and who knows what else. This massive  sprawling  complex is sure to delight Sci Fi Geeks everywhere.
With all these theme parks opening up in the middle east it makes me wish some of them would open up a bit closer to home. It isn't that I don't like traveling, but trying to take an expensive flight to  Jordan  vs driving to Sesame Place? I'll take the traffic everyday.
$1 billion Star Trek resort promises 23rd century experiences | DVICE.