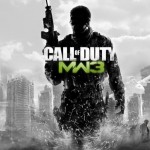 With the release of Call of Duty: Modern Warfare 3  due out Tuesday, November 8, many are waiting patiently. However, some  gamers  in France were so excited, they just couldn't wait.  Saturday was a disaster for Activision, with the hijacking of not one, but two trucks, both containing copies of the next installment of Call of Duty. The estimated total cost was €780,000, or  $1 Million.
When the first attack happened, the delivery truck was hit by another vehicle. When the drivers went to inspect the damage, they were met by two men in ski masks  wielding  knives. After throwing tear gas, the masked men made off with the truck.
The second attack happened about an hour later, when another truck carrying the same cargo was stopped by a vehicle in the middle of the road. This time, three men jumped out, with one pointing a handgun at the driver.
At this time, no arrests have been made in either robberies.