When I  first heard about EA Games bringing females hockey players to NHL 12, I  immediately  thought of Jimmy Dugan from 'A League of Their Own', "I don't have ball players, I've got girls!" This will be a start of something new to all future sporting games.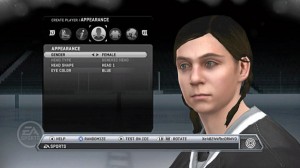 The decision to put the female gender in the game comes after a girl wrote a letter to EA, telling them she felt it was unfair. Lexi Peters wrote, "It is unfair to women and girl hockey players around the world, many of them who play and enjoy your game.I have created a character of myself, except I have to be represented by a male and that's not fun." When the letter reached the desk of David Littman, NHL12 lead producer, he was fascinated with the idea. "Lexi's letter was a wake-up call, here's a growing audience playing our NHL game and we hadn't done anything to capture them."
So, after getting NHL's permision, the choice to use a male OR a female was official.  And because she brought this to light, EA even used Lexi Peters likeness as the default character for female. This will definitley be the start of sports games adding females to games such as Madden, MLB, maybe even NBA.
There are now girls in this man's game