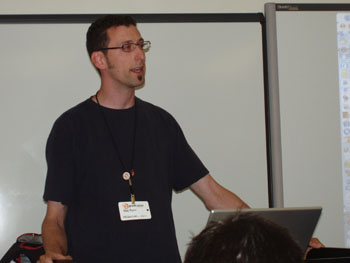 Marc Blevis of Electric Sky & One More Book among many others
Hi All a Second day has dawned, and now I have Internet connectivity. Of course I didn't have time. So now after the fact I'm throwing the notes up for all to use.
On to The Notes…
Conversation as a core competency.
Conversation is to podcasting as a sound bite is to radio.
Business is just starting to realize the power of it podcasting / community.
Whirlpool as a corporate podcast does not mention the products they talk about real life experiences.
ButterBall has a turkey hotline podcast, reinforces the brand while providing a service.
The difference between the blog evangelists and the corp podcasts is Soul & heart.
Conversations need to have soul to work
Community as a competency.
Size does not matter, a small cohesive community is more power and has more weight behind it than a large fractured community.
Advertisers don't understand the concept, but need to learn to build Organically.
The slower you build the more connected that
Build your brand, make an entrance. Be noticed, ie Hawaiian shirt guy ect.
Asynchronous communication. Radio is real time call ins possible. Podcasting has a two way conversation. Email is to IM what voicemail is to call in.
Podcasters need to extend themselves. Podcasting is a close form, such as letter-writing.
ROI Return on Influence. Returnoninfluence.com
Good E-Book for anyone thinking about podcasting. From Idea to Air, Todd Maffin
More to come