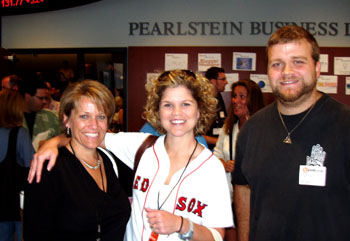 Paul Rj Muller After a session with the Mommies (Gretchen & Paige)
The Hosts of the MommyCast
Mommy Casts & Blip.tv host a talk about Corperate Sponsorships. The Mommycast is (One of) the first independent shows to gain a major sponsor, Learn / steal from the best. All the respect to these amazing women. They have built a fun, engaging and above all else successful show
Advertising companies and possible Clients are looking for a consistent message and above all else… Quality
Who to approach? How do you determine who to pitch to
Companies that are already in New media buys, Or have a vested intrest in New Media Exposure.
There are Content specific buys out there to consider. For instance A Beach Walks Show is a match for something like Aloha Air. Good Matches are hard time find.
Personal Note: Craft a Media Kit. The Mommies have an absolutely gorgeous, well done media kit. This is the style I would like to emulate.
www.Blip.tv/learning for tips to create media kits and pre reqs
Forward emails about product directly to sponsor as a showing of active listenership.