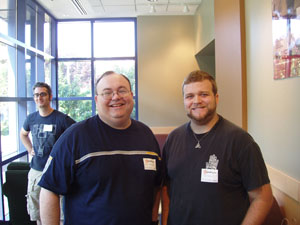 Mike Smith & Paul Muller @ PodCamp Philly
Alright Ladies and Gentlemen Day 1.5
PodCamp Philly Threw down beginning last night. In the Techpodcast network we found out that a couple of the podcasters in our group were actually local to Myself. The Philadelphia Metro Area has a rich heritage in digital Technology, Come on Eniac was built two blocks away from where i am sitting right now, and this event is no different.
Last night at the meet and greet I had the pleasure of meeting fellow Techpodcaster Mike Smith from the Mike Tech Show. It seems we both had the foresight to actually put our pictures on our shows. Networking has been great so far, met people from all over, and right next door.. I'm currently sitting in the Think Like a Producer show, hosted by the Maryland Zoo TV show.
How connected is this shindig? I'm getting twittered by people in the same event that I am while I'm writing this post. If there is going to be a podcamp anywhere near you, go! As a listener, as a potential producer, as a regular joe. Its a great community, a great tim, and Good Info.
More updates to come later. I'm not just a screaming voice.
Coffee Update: Comcast sponsored Free Starbucks this morning! I'm not a fan of paying 3 bucks for a cup of Coffee, so I didn't have to pay, which was nice.