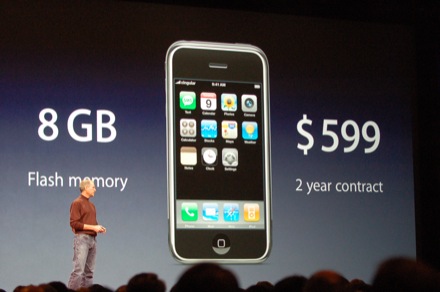 Apple Keynote day. what a sweet exercise in dribs and drabs of information seeping out onto the internet, only to incite fanboys / girls alike into a mock frenzy. So yes ladies and gentlemen the iPhone has debuted. It will be a phenomenal $600.00 dollars with a 2 year service plan. And only available on cingular. I don't know where the whole most reliable network claim comes from but i haven't seen it. I am a former cingular customer, as is my wife. I know many people who still have their service. The amount of times that I stand next to them making a call while they don't have a signal is enough to make note of. There are entire times on road trips with our extended groups of friends where we have had to pair off based on who had reception, ie those of us with Verizon, or those who did not.
Now this is by no means an anointment of Verizon as a perfect cell phone company. Hardly, in fact they molest you with data charges to degree i thought not allowed by law. yes smart phones use more data but my voice conversation is data, why do i have to pay extra if the bits are different. Neither here nor there, just thought i should put it out there though.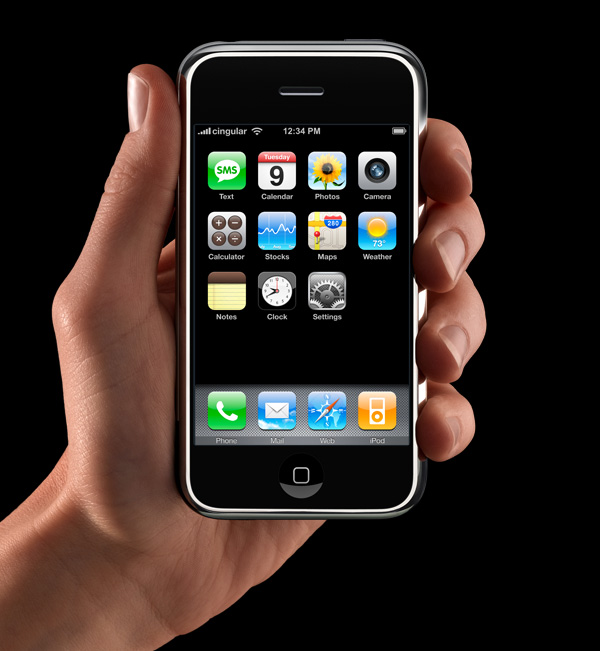 This phone looks sleek, well designed and throughly interactive. A couple small, but serious problems i see. With the lack of buttons you remove the ability for most people to dial without looking, or text without looking as some people do. My wife actively despises my Razr because the buttons are not very well defined, and she has a hard time dialing some days. Second problem is the screen and grease. One attempt to call your mom after a hamburger and this thing is slimed. I know from my personal experience, from having oily skin. After using my phone holding it up against my cheek there is a residue, no matter how often i wash. How bad will this affect the UI. That remains to be seen.
And lastly is the battery. This may be a long dead issue for some but to those of us you have tragically lost our first ipods to battery or hard drive failure shortly after the warranty expired the it is a very real issue. A businessman will not be able to take a second battery as a backup should the first one die. This is an Apple Standard, lack of user replaceable parts, but is a true anomoly in the cell phone world. We have yet to see how this whole thing pans out.
For the first time in ages I am very envious of my friends with cingular, but not enough to sacrifice a phone call connecting when i really need it to to do anything about it. Well played Apple