Podcast: Play in new window | Download
Subscribe: RSS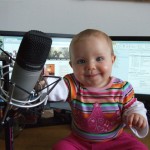 Tiny tots rocking the mic!
How do you tell someone bad news? It's called a  sandwich, and not PB and J. Give someone something Nice, tell them the bad news and follow it with another nice section. So we have a seriously cute picture of my wonderful podcaster daughter on the left. Obviously Rocking the Mic is a family tradition. I have a very similar picture of my son from his younger days.
I tried to do a show last week but it just didn't work. it didn't feel right to be happy, joking on a podcast when other things were weighing heavily on me. Tonight's show is dedicated to a young life lost. Shane will be missed, and remembered for the wonderful person for who he was. Our thoughts are with his family. I wasn't sure how to bridge from that segment, and announcement to fun and lighthearted content. And honestly there isn't any way.
But Tonight's show is going to be a fun one. I've taken all the news I would normally talk about and pulled out only the best stories from the past two weeks. Hopefully it will go as smooth as I planned. But honestly, does anything really every go that well around here?
Geek Cruft
Food and Caffeinated Bits:
Many Thanks for listening,
Stay Caffeinated!
Phone 215-240-1319 | Twitter @caffination | Facebook Fan Page
Subscribe via | RSS | iTunes | Zune