I love to take my source of Caffeination on the road. Which was one of the reasons I named my personal blog the Travelers Mug, I'm always on the move.Work, Home, Daycare to get the boy, daycare to drop the boy off, birthday parties events, functions you name it our family is there. But it makes a coffee addicts life a bit unsettled.
I have always had trouble finding a good travel mug. I have a plethora of mugs at my house, in fact after my first Father's Day Mug I have placed a moratorium on any new mugs until such time as I announce once more that we are in need. Seriously, between Boy Scouts, holidays and taking care of my things I am left with a mountain of mugs. I don't have enough pens to keep in them let alone coffee required to drink from all of them on a regular basis.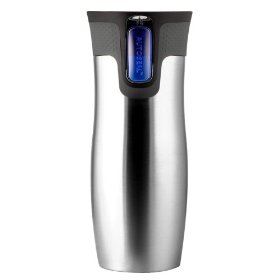 This brings me to the problem at hand, on the road what do I use? All of my previous travel mugs leaked. Some badly, others only when the car bounced or they were turned upside down. Enter last Christmas i received a ray of sunshine from my Aunt and Uncle. The Contigo*,
cue angelic voices. Its a thermos so things stay nice and hot, its vacuum sealed, so I can throw it in my backpack and not worry and its metal so I don't have to worry about anything else. In short its perfect.
*affiliate link