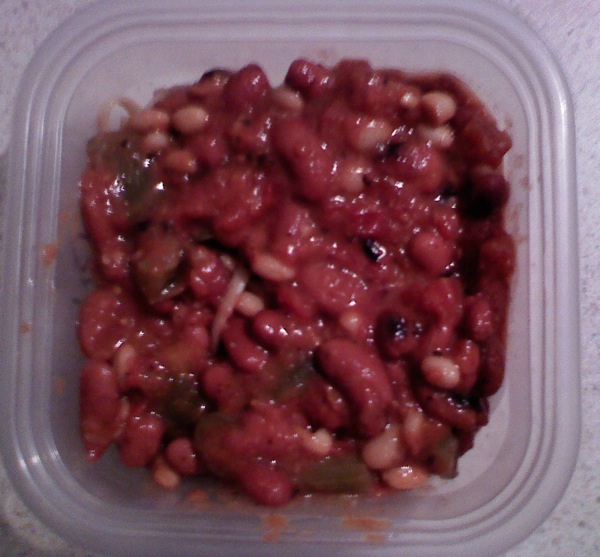 Quick Veggie Chili: Stove-top Style
Alright so I've been raving at work and at home about my fun new recipe for what i call quick veggie chili. I call it quick because i don't use the slow cooker and i can usually throw it together in no time flat. One of the big reasons this recipe has been a fan favorite of late has been the versatility of the final product.
I keep the base product simple at the beginning of the week and by Friday i have a whole new lunch ready by adding cheese, chicken ect the possibilities are endless. So I decided to share this with the group to see what you think. Lately I've been really kicking the spice up a couple notches, and its holding up to the task. Enjoy
What You need:
3 cans of Beans

My favorites are kidney, black and cannellini beans, pick three different ones

2 cans of diced zesty tomatoes, diced also works
1 large beefsteak tomato
1 bell pepper
Salt
Pepper
Garlic Powder / 1 clove of garlic
Onion Powder

Powder used for this recipe to reduce cooking time

Chili Pepper
2 Dried / Fresh Jalapenos
Brown Mustard
All Purpose flour
Chipotle Tabasco Sauce
Spice to fit after this
Hows about the Meat?
Most people who know me know that I am a devote carnivore, who will quite often just bring a steak for lunch. However when cooking for long term, ie. taking the meal to work each day of the week its best to go with a base configuration and modify it for variety later on in the week. For the veggie lovers in the audience this chili is plenty hearty enough to live without any additions, on days when i don;'t add anything to it I just kick the heat up a notch and its quite filling.
Options: Possible Additions

Hanbenero flakes / sauce (For that kick-you-in-the-teeth fire)
Meat, browned or cubed lightly seasoned
Cheese! mozarella or cheddar both work great as a melted topping
How We Do: Prep & Cook

This is possibly the simplest recipe I have ever posted but dang if it isn't mighty tasty.
Using a colander open all three cans of beans and rinse them thoroughly, Rinse until there are no bubbles in the water.
Empty beans and cans of diced tomatoes into a medium sized pot. I use a 3 quart pot.
Set heat to simmer
Chunk the large beefsteak tomato, larger are fine. This adds bulk to the final chili
Cut the green bell pepper up into small bite sized pieces add to the pot and stir
Stir in 1 tsp each of of

brown mustard
chili pepper
Garlic Powder, or 1 clove chopped fresh

Add 1 tbsp

Chipotle Tabsco Sauces
Onion Powder

Salt and Black pepper to taste.
Stir 1 and a half tbsp of all purpose flour into a half of a cup of cold water until it dissolves completely
Slowly stir the Flour water into the chili,this thickens the chili

If you don't use water you end up with clumps of flour in the final product
No one likes flour bombs
Gluten free / or alternate recipe use crushed Tortilla Chips, about a handful full of chips

Simmer for 20 – 30 minutes stirring
You'll know the chili is done when the green bell peppers are soft to the touch, and the beans have started to smooth out in overall texture
Consume!