A Huge Thank you to Norbert Davis for not only taking the plunge and trying a new product for our amusement, but also sending in such great product shots and a Full review. Be sure to check out his Show the Totally Cool Tech Podcast,and make a special trip over there right quick to sign up for the 1 year anniversary contest! Now I need to find me some cookies!
— Norbert Reports —
As I was wandering the aisles of our local megamart with my wife doing the weekly grocery shopping, my wife spotted the BuzzStrong's Real Coffee Cookies. Now being a fan of the Caffination Podcast, I could not pass up the opportunity to get these and pass on the wonderful news. We purchased a box and when we got home I opened them up to check to see if they are as advertised. 4 cookies = 1 cup of coffee. Well, I'll bit (pun intended).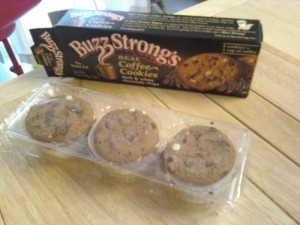 As I opened them up and took out 2 cookies, I gave them a sniff. They had a nice aroma of fresh brewed coffee, not too strong and not too weak. The cookies have dark and white chocolate chips in them which are a natural compliment to coffee. They are about the size of a silver dollar or so and about a quarter of an inch thick. Just right for serving with coffee when guests arrive.
Then I bit in. The cookies were just a bit dry but still had a chewy texture. The coffee flavor was not at all overpowering, but could have been a bit stronger. I did try four cookies and they did taste really good. I would say that they are like Mrs. Field's cookies as far as size, quality, appearance, and over all taste but with the coffee. The ingredients are natural and there are not a lot of junk in them considering that they mass produces. Brewed coffee is the 8th ingredient and appears to take the place of water. I believe the molasses, the 12th ingredient (of 13) is what allows it to keep from being too dry.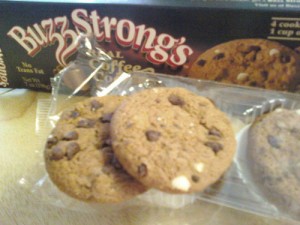 If I were to compare this among the other mass produced cookies, it would beat Keebler and regular Chips Ahoy!, but probably not better then Mrs. Field's Tipple Chocolate. But I can attest that there must be enough caffeine in them to give me a decent buzz. I really did not expect it, but it is there like drinking a good strong cup of coffee. So if you find these in your neck of the woods, give 'em a try, I don't think you would be disappointed.
– Norbert Davis
Totally Cool Tech