What do some of these names mean to you?   Kareem Abdul-Jabba,  Larry Bird,  Wilt Chamberlain,  Julius Erving,    Patrick Ewing,   Magic Johnson,   Michael Jordan,    Karl Malone,    Hakeem Olajuwon,  Scottie Pippen,   Oscar Robertson,  Bill Russell,  John Stockton,  Isiah Thomas,  Jerry West?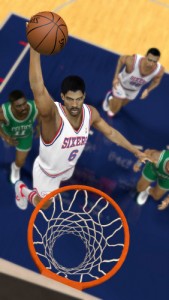 If you are a fan of basketball then they mean years of memories, history that lives on beyond the end of eachseason. This year NBVA 2k12 has taken the games of the past, the heroes of your childhood and provided hours of enjoyment in a modern game gem.
I'm a Fan of the 76'ers, well lets be honest right now no one is playing much of anything. If the players and the league get their act together we might be able to watch real games. But until that  happens  this is a mighty fun  alternative. Last year 2k11 lit up my console with the adventures and exploits of MJ. Everyone wanted to be Mike. Jordan is untouchable when it comes to past players. but the  experience  in last years game wasn't just  playing  as  Jordan, but rather  playing  as  Jordan  against the best that ever was on the other side of the court too.
The Fine folks at 2k Sports have taken that  experience and spread the love around to a host of legends, all listed above.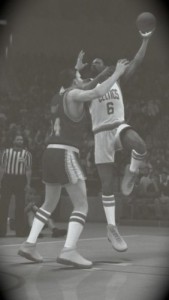 They also revamped the Create a player feature so that if you are going to attempt to start a  career  you have less of a chance of ending up in the D league, which is  frankly  boring. I got  drafted  by the Houston Rockets, and then  complained  my way back to  Philly  where they should have taken me with their pick, but I'll make them pay after my rookie contract is up… All of these things are  possible, and fun. the games get switched up. The only feature I wish I could turn off is the post game press conferences. They get a bit annoying.
The legends feature is awesome, the look and feel of the game is there from the  different  eras, Games from the 70's look like the broadcasts did back then, and the commentary of the time shines through. The teams are spot on and the challenges are crazy hard.
I  recommend  this game for any fan of Basketball, and any fan of sports game in general. It is challenging without being annoying, it is difficult if you don't know the game, and the history is alive and well on the screen.
Come feel the history!
NBA 2k12 For the Xbox 360  
NBA 2k12 For the PS3