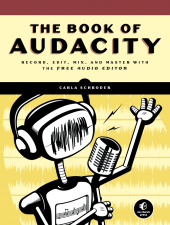 Ask around my office, or around Podcamp, or a technology centric podcast or recording area. People can't help but compliment Audacity, the free software program does everything you need to do to produce professional recording and media. The best thing about free software is the price, the worse thing is that there usually aren't good directions for what to do with it. Enter The Book of Audacity by No Starch Press. No Starch press offers a line of books that take a relaxed approach to presenting good information. they have a tendency to publish technical books that are, gasp! Easy to read. Imagine that.
Carla Schroder, the author spends time to segment the information into each platform discussing candidly with little fandom attached to good things about each platform, be it Windows Mac or Linux. The graphics charts, and helpful hints are expertly placed to break up the flow of text and make the book easy to consume. Carla's voice can clearly be heard throughout the text, so that it sounds less like a white paper and more like a discussion from an expert point of view.
How does it Read?
Dry subject matter is dry, but a complex concept explained in good detail with frequent examples and bite sized chunks of relevant information is always the best way to go. When you pick up a tech book, do you want to go from soup to nuts? Or do you do what the rest of us humans do, flip right to the section you NEED at that point. This book is designed to make both approaches easy t understand. A short introduction and focused chapters make the information compartmentalized and accessible for users of any platform.
I've been using audacity both in work and at home for over 5 years at this point and I picked up tips and tricks which I hope will make my future recordings, mixes and podcasts that much cleaner. I am constantly called upon to teach sessions on using Audacity. love helping others realize the value of a free program, you just have to provide the sweat equity to make it yours. With this book the time spent sweating is reduced and the time spent making good audio is increased!
The only area I saw that wasn't really dealt with is What Happens when Audacity Crashes? But I have you covered there.
Rent or Own:
I judge all books based on whether or not you should buy them or take them out of the library. I would file this book in the Own category, not only is it a good reference for experiences users to eyeball when they are stuck on removing the last little bit of fuzz from a track or getting the most out of their setup. But this book is an essential tool for the new Audacity user.
Book Information
Record, Edit, Mix, and Master with the Free Audio Editor
by Carla Schroder
March 2011, 384 pp.
ISBN: 978-1-59327-270-8
$34.95 Print Book and FREE Ebook
$27.95 Ebook (PDF, Mobi, and ePub)
Consider Supporting the CaffiNation By purchasing this book from Amazon
* Full Disclosure: I was sent this book by No Starch Press, at no cost, for the purpose of reviewing it.