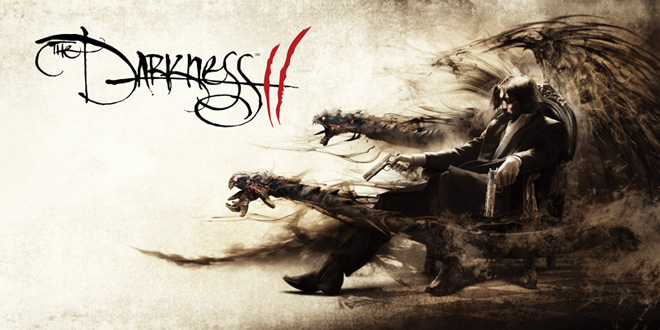 These days, the only things you usually hear lurking in the dark are vampires and werewolves. Well, get your head out of the gutter, we are not here to talk about Twilight. We are here to talk about a mob war, demons, altered reality, and more importantly, revenge. I am talking, of course, about  The Darkness II. This game is packed with extreme violence, excessive language, and an abundance of thrill seeking fun. That is why this game is rated M. Sorry children, this is certainly not for you.
Although I didn't get a chance to play the first Darkness, I was quickly brought up to date when I started the game. After hearing about it, I really wanted to go out and buy "The Darkness". The events of the game occur 2 years later. In the game, you play  Jackie Estacado, who went from a hitman to being the don of the  Franchetti family. Jackie still has the power of the Darkness, but it has been under control. But when a rival crime family tries to take Jackie and his gang out, his only way to survive is to unleash his  malicious powers. And in doing so, he not only survives, but is now faced with a battle with an organization, known as "The Brotherhood." To add more to the plot, Jackie is trying to fight through hallucinations of his girlfriend, Jenny, who was killed in the first game.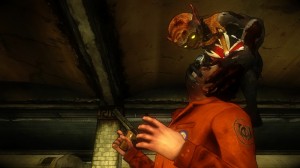 Not only can you play the storyline, there are a couple other features to add to the game. In the Vendettas gameplay, you can choose between 4 different hitmen who have some sort of dark powers and your job is to accomplish different jobs on your "hit list." This is a feature you can also play online with fellow gamers, which helps unlock certain jobs.
I found that the game was very well done all around. The graphics, which were done in "cel-shading animation", worked perfectly.  The storyline wasn't too long, and the difficulty worked nicely. I believe the best part of the game was not only having two arms, but also having to demon like snakes coming out which could also be used as weapons. As for the negative, I think the only thing that could have made the gaming experience a little better, was being the Darkling, a subconscious created by the Darkness. You get very little playtime, when I am sure you could have put more action being him.
With its predecessor holding a high review, The Darkness II had some pretty big shoes to fill. Although I can not truly say that it has, considering I have not played "The Darkness", I would like to think the reception of the game is just as good, if not better. For my rating sysem, I went for something out of the ordinary. Considering I am a huge Legend of Zelda fan, I will give this game  




 out of 5  

. It is  definitely worth it to get this game. Just one word of advice…stay away from the light.

http://amzn.com/B004ML7WOK
*Full Disclosure: This game was sent to us at no cost for the purpose of review.