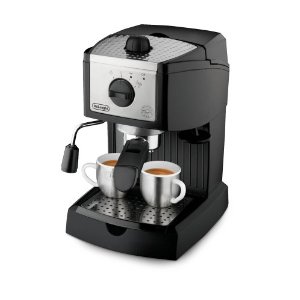 This is not a normal review. I have  used  this machine for 3 years, and it is still going strong. The problems that were there in the  beginning  are still there, but they were never  enough  to force my hand at upgrading.
This review has been a long time coming. I often have people ask me what is the best espresso machine to start out with? Well I myself don't have a huge budget, so technically I'm still with my starter Espresso Machine. And it is a beast. By Beast I mean this little machine has a few quibbles and just works, and works well. Especially when you consider the price point it comes in at.
Will I still upgrade down the road when funding isn't as much of a object as it is right now? Why yes… yes I will. Will this machine earn a place of honor in my office as the espresso machine in my remote coffee campus? Why yes… yes it will.
The DeLonghi EC155 has a couple of great things  going  for it, and two main detractors. First we go with the good.
The Good:
There are two types of espresso machines on the market, ones that use steam to apply pressure to the coffee puck, and ones that use a pump to do the same. Pump espresso machines are more consistent, and are capable of achieving better pressure. in short they are the way to go if you can afford it.  The EC155 is a pump driven machine, for under 100 dollars. The price is amazing, and the espresso it produces it mighty good as well. Nice thick crema and even can take ESE pods. It can froth milk decently, and even has a warming plate on the top of the machine.
The machine comes with a single and a double shot basket. There is  storage  in the back of the unit for  the unused one. There is also a pretty decently sized reservoir  for pulling multiple shots without refilling the machine.
If you don't know espresso, or if you are coming from a combo machine this is the way to go. when coupled with a good grinder and decent beans it is capable of making great espresso.
The Bad:
There are two main areas of use that I find lacking on this machine. The frothing wand is too short, and at a bad angle, can you still use it? Yes, but it makes things a pain where a small redesign would have made it perfect. The second thing which is a bad design is the  clearance  under the portafilter leaves a lot to be desired, You can only fit a demitasse  glass  under there, no mug, No larger cup for cappuccino. So if you are machine a larger drink you need to drop a double shot into a small teacup and pour it into your serving glass to prep for the milk / foam / syrups.
A helpful hint here is that when i want to use a teacup I pull out the drip basket and you can get a teacup, but not a full sized coffee mug under the grouphead.
The only other thing I would consider a problem is the included tamper is in a hard to reach area. but pick one up for yourself from amazon for 5 or 6 bucks and away you go! No muss no Fuss. I would suggest RSVP Terry's Tamper
as it does a good job.
In my opinion none of these problems are deal breakers. But you should be aware that the machine is not perfect. But for right now, and for those just starting out this is the machine you need.
Conclusion: Simply the best low-end Espresso Machine on the market.  Consider it the gateway drug for the good stuff. I have tried a bunch of  different  low-end machines from coffee / espresso marker dual use units, to steam-driven espresso. I have not found a machine for this price that can produce good espresso. This is it.
Full Photo Set From Flickr: