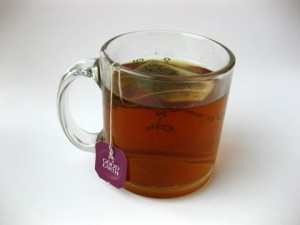 So it is the dead of winter, when the only thing moving is the wind, and the only thing warm needs to be my beverages. The rest of the world will take care of itself. This is a review of the Good Earth Sweet and Spicy herbal Tea Blend. There is no  caffeine  in this beverage. Why is it then that I'm head over heels in love with  it? It has been a long time since I had a product that completely took me by surprise. And this is one of those times.
I brew tea all the time, from Earl Grey to Roobios, Assam to Pu-Erh , the pot overflows with  wondrous  varieties some true tea, others are herbal infusions. But when it comes right down to it. Most of them are not sweet, they are good and full bodied, but even if they claim to be sweet, most people would need to throw a spoonful of sugar into the mix before continuing.
I began to steep this tea and the lovely aroma of Sweet Cinnamon with a hint of ginger wafted up from the cup. I was expecting the typical tart cinnamon tea taste. but this blend knocked my socks off. It was sugary sweet, I had to check the ingredients twice just to make sure I wasn't missing something. What manner of devilry is this? The tea tastes like you are chewing Big Red gum, I am not kidding. It has the kick of ginger, the sweetness of anise, and the rocking flavor of the best  cinnamon.
A Chilly winter morning, even without  caffeine  this is the perfect way to put your commute on notice, or end the day with a sweet and spicy cup. As a fan of loose tea, I'm only left to wonder exactly how savory that offering is as well. This is a 5 out of 5 leaves to be sure. I don't often find a product that i rave about, i mean actually go out of my way to tell people I know offline about, but this is one of those times.
*Full Disclosure:  I was sent a box of this tea at no cost for the purpose of review. All the surprise and adulation is real and not simulated.