One more in the series of Articles about who I listen to. Its an eclectic bunch to be sure, and believe it or not there are not too many tech related podcasts on my player, this just so happens to be one of them.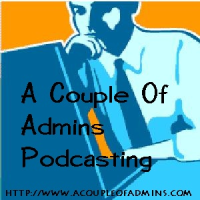 Ever wonder what the sysadmins do when their door is closed? This show gives you a peek into the minds of root. A Couple of Admins Podcast is a show where a couple of normal guys who just happen to be System Administrators relax, chew the fat and have a good laugh Sysadmins are a funky bunch by their very nature, so its a Humor show, an admin show, a tech show, and a friend show. Switching gears from some pretty nifty humor bits on one hand to a hardcore tech discussion in between impressions. Gotta love geek humor.
I met Keith Albright, chief impressionist and one of the founders of the show at Podcamp Philly. He's a great guy I got to hang out with him in between sessions. So on a personal note you'd be listening to good people should you choose to head on over and check them out… Which you should. So in an effort to spread the Techpodcast Network love around I'd urge you to give their show a listen.
As soon as I get a promo from them… You'll hear it
~Paul