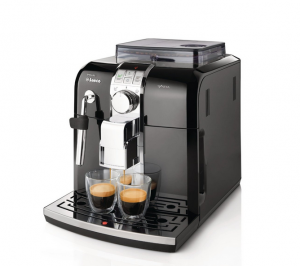 There are very few products that show up at my door that blow me away. I like most of the things I am sent, I try to focus on the good pieces of others that fail to meet up with the hype. But more often than not I'm brutally honest about how I feel about a piece of machinery. The Philips Saeco Syntia automatic espresso machines changed the way I drink Coffee. Philips Saeco Syntia review is ging to change the way we review machines. I want to let that sink in. I love coffee, some would say too much. I have paraphernalia like you wouldn't believe the stuff in my office, my home office, my kitchen even have dedicated coffee makers and grinders in the camping equipment. I have cleared the kitchen out of all other pieces of equipment and one box rules them all right now.
A super automatic espresso maker is supposed to grind, tamp and brew your beans into a lovely espresso based product. The Syntia does that effortlessly, quietly and cleanly too. I have been using the machines sent to me for about 3 weeks now solid, and I can't believe how much coffee I am going through. I am drinking coffee like there is a shortage. And it's all fantastic coffee. Let's do a high and low point, the good the bad and the ugly if you will.
The Good:
Consistency Quality and cleanliness. It is capable of producing wonderful coffee and creamy espresso with little to no preparation on your end. You put beans in the top (or a single scoop of pre-ground coffee if you happen to be out of the good stuff) and push 2 buttons. Your coffee or espresso appears a short while later, with a lovely full crema on top, a silky smooth texture and solid consistent quality. The pour takes about 20 seconds start to finish, and is awesome. The ceramic burr grinder does a fantastic job keeping a consistent grind and running rather quietly.
The Bad? There are two small areas I have noticed that could be slightly better, but by no means are deal breakers. the steam wand has just enough clearance to get the water basket in and out, but could do with just a little more, if you see the overview video This issues shows up, but it isn't a real problem. The other thing I noticed was that if you put too much coffee on your scoop it dumps the dry coffee into the hopper with the wet pucks. If this happens you may get some coffee grounds on the chamber inside the machine. If you are careful this will never be an issue.
The Ugly?
The Price. With a suggested retail price of $1,600 this machine has a huge hill to climb in terms of expectations. I have seen it priced anywhere from $879 to $1,300, both of which are right in the wheelhouse for the top of the line manual espresso machines. And this is an automatic option, complete with the grinder. It is simply one of the last words on espresso in my house. While I would probably not be in the market for a machine in this price range for a while longer, when compared to its peers it still seems a little high. The prices I found on the machine, however, were in line with what you would expect to find a Super Automatic Espresso Maker listed at.
While I am neither a fan of cappuccinos nor any milk based drinks I did test out the frothing wand heavily when company was over. It works very nicely, has a nice long steam wand that gets the milk up to temperature quickly and keeps a good temperature and pressure on the steam throughout the process of foaming the milk. It also happens to make water hot enough for tea… Just saying.
Conclusion:
I absolutely love the Philips Saeco Syntia, I feel that it is capable of taking almost any good coffee and producing fantastic espresso and espresso-based beverages with ease. Anyone, literally anyone can use this machine. My 5-year-old does so in the Review video! It is awesome to be able to have a product on hand that not only delivers a first-class experience but is capable of doing so even after very heavy use, and no loss in quality. While I am concerned about the price the comparable machines all seem to hover around or close to that price level.
If you liked coffee before this machine you will love it afterward, if you loved it before be prepared to enter marriage counseling. the Syntia does coffee right, and better than anything else I have tried.
Check out the Overview and the Review to make up your own mind and see it in the flesh. Or Check out the Flickr Gallery!
The Overview
The Review:

*Full Disclosure: I was sent this unit at no cost for the purpose of review. This did not affect my opinion in any way.