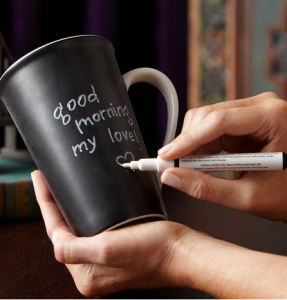 Not sure when this came out but I love the idea. Starbucks has debuted a larger mug with a special coating on it. This coating, when written on with the included pen and baked in an oven becomes  permanently  marked with your words of wisdom, inspirational doodle or hilarious missive.
And honestly $14.95 for a 16oz mug, a spiffy 16 oz mug. Is not that bad of a deal. I'd love to see people send in their final creations. I just know there will be some jaw dropping artwork on these things.
Create-Your-Own Mug, 16 fl oz | Starbucks ® Store.