As a friend of mine from High School said, "Break out your scuba gear cause I'm about to get deep." Can Coffee change the world? Can Coffee change the way people think about another country as a people? Not really, but it can sure try.
Does anything about this picture seem odd to you? It doesn't to me.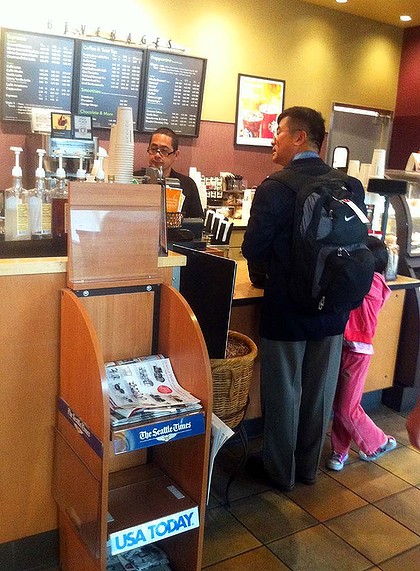 The US Ambassador to China, Gary Locke IS trying to change the world, make no mistakes. But he didn't intend for it to be like this. The picture above has gone viral in China on one of their more popular social networks called Sina Weibo. In this photo I shouldn't have to explain, but Mr Locke is  buying  a cup of coffee, in a Seattle Airport, with his daughter.
In china this is apparently a non sequitur. Government officials do not carry their own bags, are  chauffeured  around in tinted window'ed vehicles. And most certainly they have people get their coffee for them. I'll let the official reporters do the rest of the story justice. But lets just say by buying his own coffee, carrying his own bags and basically being a decent human being he is causing an uproar on social networks in China. And it all started with a cup of coffee. My only suggestion would be to have Gary sample some of the other fine coffee establishments in Seattle, although I'm not sure how many other choices there are in the airport.
Coffee might not change the world, but a picture is starting to make some waves.
US Ambassador To China Buys Own Coffee, Photo Goes Viral In China.