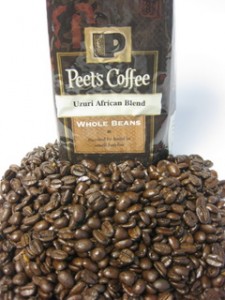 I know that chances are you like coffee if you are eyeballing this site. If not no worries, coffee being the 2nd most traded commodity in the world besides oil, means you probably at least know someone who likes coffee. Possibly even loves coffee. And Everyone i know loves free things. So how does free coffee sound to you?
I recently  received  a sample of Peet's Coffee's new Uzuri African Blend. Peet's Coffee is working with Technoserve as a way to  promote  and fund sustainable economic development in impoverished  nations. The Uzrui blend is only available for a limited time.
And the lovely people who sent it to me also wanted to share the wealth with the rest of the CaffiNation listening audience. So I have 5 bags of coffee to give away. And we're going to start doing that next week. The review for the coffee will be up before the end of the week but the fun starts now!
1 entry per person please. Just click the lovely Email Me Button on the right side of this post and add the subject free coffee into the email. It doesn't get much simpler than that! If you feel like pleading your case, writing a poem or whatever else in the body of the email go ahead it should make for a fun live show. We will be drawing the winners on the live show for March 3rd, So get your entry in before 11pm EST on March 3rd.
Don't think you're lucky? Well how about a second way to win? You can win the new Uzuri blend by visiting the  Peet's  Facebook promotion page where 10 winners will be chosen each day through March 8.
10 people a day!