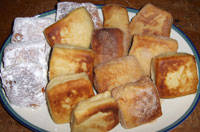 There are quite a few traditions that I remmber from growing up. One of my favorites was and still is  Fastnacht day. Some call it Shrove tuesday, others call it Fat Tuesday, and I've heard tell of this Mardi Gras thing too… There might even be a subtle religious overtone to the real meaning behind it, but thats not what I'm here to tell you about.  Round about the Muller House it's always Doughnut Day!  It's supposed to be  celebrated  with a wonderful piece of fried dough called a Fastnacht , it looks a little something like the image to the right.
The problem is no matter how often I  pontificate  about my love for the day I never remember to leave enough time to travel to a bakery that sells the real deal that morning.  Today is no differernt, so it will be run of the mill doughnuts for me again this year, but no worries. it's a single doughnut, enjoyed with a tasty hot coffee.
In fact I can't remember a single  Fastnacht day where I didn't pair the sweet sugary goodness witha fine cup of coffee. Today was a Dunkin Special, but I have a batch of really tasty Nicaraguan in work that I will be feasting on long about the afternoon, probably around the time I go on the hunt for another doughnut.
In years past I have always been  aghast  that some people don't know about this fabulous holiday. It's a day dedicated to doughnuts… I mean how awesome is that! So head on out the door and pick up a tasty morsel. and if you happen upon a real honest to goodness  Fastnacht , probably from a german style bakery. please enjoy it extra special for me.  Or you could always try to make your own…