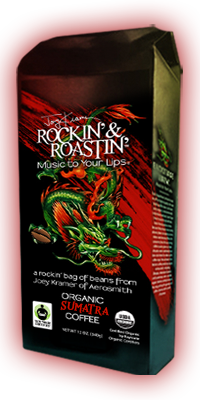 I'm a huge Fan of Aerosmith, from their early stuff to their more recent offerings. I've probably seen them in  concert  more than any other band, and I've never been  disappointed.  Quite simply they know how to rock.
The band has in recent years also started to branch out into other endeavors. From Joe Perry's Hot Sauces to some Idol madness. But now Joey Kramer the Drummer for my favorite band has decided to launch a line of COFFEE! Ok Seriously… pinch me.
Rockin' & Roastin'  is here. With Four Distinctly  different  organically grown coffee's Ethiopia Dark, Guatemala Dark-Medium, Sumatra Gayo Dark, Ethiopia Decaf… I can't wait to try this!
Completely ignoring the decaf option, two of my favorite coffee  origins  are also represented. I love  Sumatran  Coffee, and Guatemalan is also a top 5. So It looks like i'm  going  to have some choices to make.
Sumatra Gayo Dark | Rockin and Roastin | Joey Kramers Rockin and Roastin.