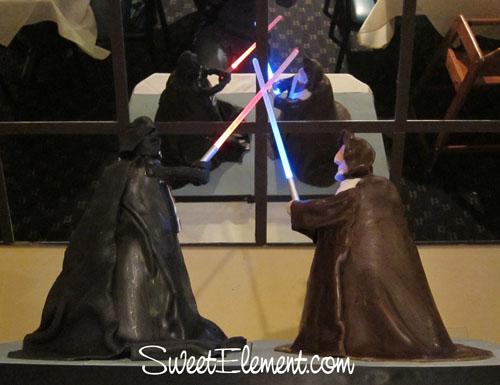 Jennifer Roberts the owner of Sweet Element boutique cake shop in East Orange, NJ  recently  delivered what has to be one of the sweetest and most awesome Star Wars Cakes I have ever seen. A Dual Dueling Grooms Cake, Light side and Dark Side. Obi Wan vs Darth Vader… In CAKE. I've seen more than a few star wars cakes, although geeks being geeks most of the were birthday cakes, and not so much on the lifemate celebration variety.
These two cakes, which I can only hope are vanilla and chocolate are unbelievable and they light up! Did the groom cut it with a lightsaber? What did the regular cake look like? Either way this is fantastic!
Now take a step back and realize that Sweet Element is a one woman shop. All that awesome you see? It was All her! Bow down to the Cake master, the force is strong with this one! I already told my wife she was lucky that I didn't know about these types of cakes before our wedding. hats off  Jen, this  is  some fantastic work!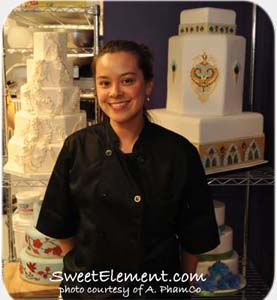 You can check out more of the production stills from Jen's Twitpic stream. Soo cool! Or read a bit more about the process on Jen's Blog