For years the CaffiNation has been only about coffee, at least perceptually. The logo is a coffee bean the old tagline was "Tunes and Tech, Coffee and all things Caffeine", or "Fear the Bean". But it hasn't been true I love tea,, good tea, and I drink it almost as often as I drink coffee. Yes, the truth be told, I have an  addiction  to good tasting tea. I still have Coffee in  quantities  that would stun a horse, but I mix it in with a healthy dose of fine tea.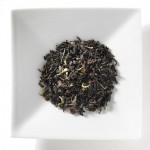 My preference is Loose tea, and Recently I was gifted with a wonderful bag of Loose Earl Grey from NeedCaffeine.com. The tea was fresh and the aroma stunning. A rich body of citrus taste carries the tea wonderfully to a smooth finish.  My wife dislikes coffee, so we are a coffee and tea family I the morning, usually. But since this tea entered the house I have been rocking the teacup alongside her. I usually make all my loose tea in a french press, with very little  emphasis  on the press. Drop in two scoops of loose tea, near boiling water and let it steep for 3-4 minutes. Pour out the tasty beverage into your travel mug of choice and enjoy on the run. What kind of geek would i be if i didn't present my wife with her "Earl Grey… Hot", each morning?
NeedCaffeine has a fine assortment of other wonderful teas on hand, one of my favorite things besides loose tea is tea  satchels, which is loose tea bundled into little mesh disposable tea bags / balls. You get all the flavor of the loose tea in the proper dose, without the stale tea taste of a standard bagged fair.
*Disclosure: I was sent the tea at no cost for the purpose of reviewing the product. No preferential treatment was given, all thoughts and comments are my own.