The french are know for a great many refined things in the world, dainty cheeses, varied wines, and champagne. Well you can add another culinary masterpiece, with a little geek flair thrown in.
Enter, with appropriate music of course, the Darth Vader (apprently Vador in french) Burger! Actually the picture looks even more epic when you play the linked video in the back…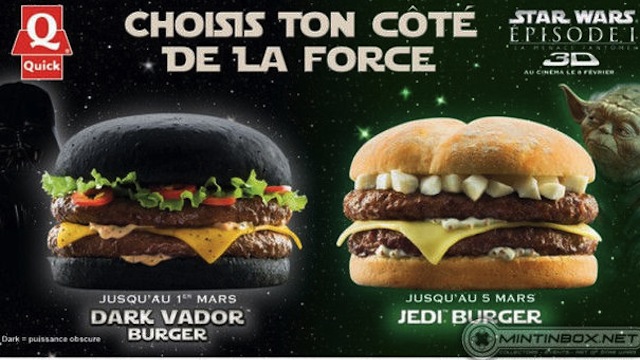 This is a special kind of awesome, although it needs to have three patties, just so you could say the force is strong with this one. without knowing any french I can only assume that the Sith Burger would be spicy and awesome and have lots of bacon hidden on it., while the Jedi burger is nondescript, generic  Jedi. If it was an Obi Wan burger it would be  pious  and a little bitter, if it was a  Luke  burger they would have to serve it with whine.
Because let's face it is this was a Yoda Burger it would be white castle slider small, and have  Guacamole  on it… And would still be more awesome than the other two Jedi burgers combined.  OK  that's  it I need to make my own versions of these now…