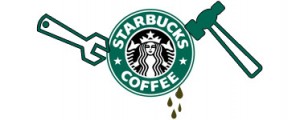 I have a very well documented history of critique for Starbucks. From their predatory expansion to their burnt swill and snarky service people. But this won't be one of those pieces, instead we aim for constructive criticism. Today 12 EDT, and 9PDT Starbucks will be holding a Taste in of their new flavor Pike Place Roast. Meh long lines, half hour of free taste of a new blend. This blend is supposed to be a response to people who say that Starbucks coffee is burnt. It is a lighter roast supposed to be easier on our delicate untrained coffee drinking pallets.
Here is the thing. I know a dark roast, and I even liked the Holiday roast, when I made it in the comfort of my own home. I had the same blend in a local Starbucks and the coffee was burnt… Not a taste too robust for my sensitive American pallet. Nope burnt, as in left to long on the too hot warmer. Overly bitter because the bean had been ground long before they ever saw a drop of water. And frankly delivered by a wifty and uninterested clerk. In short the experiance that I was paying for wasn't good. I instead got expensive bad coffee.

The news I am excited about is a mere afterthought on most of the press releases about today. Starbucks will be grinding their beans in the stores again, I don't know if this is all stores or just select locations. But this shows a true commitment to quality. Introducing a new roast is simply lip service to the coffee drinking public.
But all that aside in a sliding economy Starbucks is proving that the first thing to go are the frivolities. Coffee is a necessity in most people's lives, but the experiance, especially when bad is an easy thing to cut. Drive through lattes and short order Mochas for less money are the wave of the future. Starbucks would serve itself and its customers much better by making the experiance something you would regret missing. That is the only way you can bring people back in. The good news is instead of listening to the people who love them, they are starting to pay attention to those who don't. Maintenance