Recently I was sent a care package by Balance Bar Cafe. An interesting new product trying to establish itself as a high energy health conscious snack. The cafe title is not meant to be taken as a traditional Energy Bar with caffeine included, but rather the name is a subtle  suggestion to  eat this when coupled with coffee, as you would a more unhealthy snack.
Balance Bar Cafe's are a product designed to be enjoyed as a healthy snack along  with your morning coffee, or afternoon pick me up. It doesn't mean that they are a meal replacement. Nor are they Diet Food. But does that mean you should throw a candy bar down your throat because it's there? No it doesn't. But if you are  going  to try a snack during your coffee break wouldn't it be nice if the snack was a high in  protein, overall balanced  alternative? Why yes… yes it would be.
As per usual all products submitted are run through the same process.

The Journey
Smell: If it doesn't smell good How can you eat it?
Taste: Obvious and penultimate
Aftertaste: Food is done, but is the  flavor?
Claims: If a product claims to be faster than a speeding bullet we'll shoot it.
Smell: Upon opening this bar the wonderful smell of a cinnamon bun wafted up to my nostrils. Not only is  Cinnamon  one of my favorite food smells, next to coffee and BBQ, but it honestly smelled like the real deal and not a chemical  equivalent.
Taste: The bar was sweet without being overly so, had a wonderful Cinnamon flavor going, well rounded and  satisfying. You honestly can't ask for anything more than that!
Aftertaste: None! The only reason this  category  is here is because some foods, no matter how processed they are tend to linger on the palate. I was left with a wonderful taste  experience  and no "Hangover"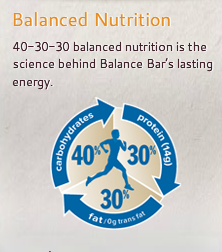 Claims: I was  satisfied, and though I'm not in the habit of needing anything with my coffee this treat did seem to fill a gap in my day when i was running around without killing my Diet. (Weight Watchers people, the bar is 5 points, I calculated it) Full nutritional  information  here. Balance bar claims that their bar follows the 40-30-30 plan, which means 40 percent carbs, 30 percent  protein  and 30 percent fat.
Conclusion: This is a great  satisfying  snack. And while I'm no nutritionist it isn't candy, its better than the traditional  donuts, bagel or cheese Danish.  I'm happy this wasn't a fat free product. Way too much of my adult life has been spent fighting the Fat Free product craze. They throw in  Protein  to keep your engine going. And though i'm not too sure about the  balance  between all the  different  factors it hasn't hurt my diet after eating them the past couple of weeks.
Overall this is a well rounded snack.  Sticking to a diet plan and trying to manage the snacks while still feeling a little indulgent is hard work. its nice to  know  there are foods on the market for people with a sweet tooth and a coffee snack habit. Although I'm not a sweets kind of guy this was quite good.
*Full Disclosure:  I was sent a lovely care package at no cost by the fine Folks at Balance Bars for the purpose of writing this review. This in no way affected my opinions of the product nor was a desired  outcome  asked for or agreed upon.