We all love having our tasty hot beverages on the go, and now with  KeepCup  the options to do so are growing in a much more earth friendly manner. I've been play testing this replacement for a take out cup for about a month now. And I'd like to share my findings with you.
What is a Keepcup? A Keepcup is a replacement for getting yet another disposable cup from Starbucks, Dunkin Donuts, Saxby's or anywhere else your thirst finds you. They come in all of the standard sizes used by Barista's and the smaller sizes even fit under the  portafilter  for dosing with espresso.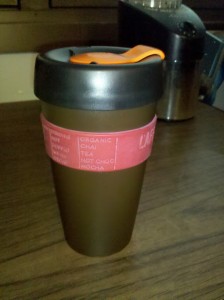 The Good: My wife and I have traveled with these cups for about a month and never once was a drop spilled in the car with the lid on and the plug  in the right  position, a huge improvement over disposable cups. And the Silicone band aroudn the center of the cup makes for a nice insulation from the heat.
I know a bunch of people who worry about throwing a travel mug up on the counter at a  Starbucks  or coffee establishment only to have it turned away. these cups are perfectly sized at 16, 12, 8, 4 ounce sizes.
They are BPA free and dishwasher safe. They fit perfectly into all of the cup holder's I have found so far.I've seen products that claim to look like a styrofoam cup, but are made of ceramic, or hardened plastic shells drop one of them and see how practical they are.
We actually use them around the house to prevent accidental coffee spills and milk for the kids at night. Everybody loves having a little barrier between you and the couch when its movie night and milk & coffee is dispensed.
The Bad: There is really only one downside to this cup, and that is the insulation. Pour a hot beverage into the cup and much like a paper or  Styrofoam  cup the product is cool an hour later. A sad fact when my usual commute is an hour. And I like to make beverages at home and drink them in the office.  You can feel the heat seeping right out  through  the sides of the cup. Maybe a silicone liner or total cup sleeve would fix this?
But should this affect the normal consumer? No Most people buy coffee from the store to drink it right away. So perk up and grab one.
And while yes they are spill proof, or splash proof. they are not airtight, this isn't a bad thing. just not ready to be thrown into a gym bag while full or anything crazy like that.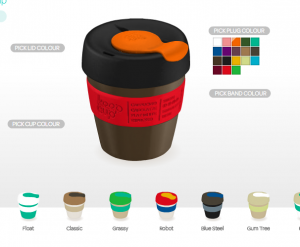 Cost & Color:
Costs are mighty simple, and pretty awesome when you consider the life of the cup.
16oz  $14.20
12oz  $12.20
8oz    $10.20
4oz    $8.50
The color combinations are almost endless. Choose from 9 cup colors, 13 lid colors, 22 Band Colors, and 17 plug colors. Any combination of any of those colors is fine. And hey the band actually comes with pre printed words for use by your coffee establishment to mark off the style of beverage you orders. Flat White, Doppi, Tea, Chai, you can have it all.
And via their online ordering system you can customize, and share your design  acumen  with others.
The Earth Friendly Upside: When your cup is at the end of its life simply placer it into the recycle bin. How nice is that? And besides that you are slowly eliminating the disposable cup menace, it's like the dark side's craft services department.
Conclusion: This is a great and serviceable durable mug. It completely should replace your need for disposable cups from any of the coffee establishments out there. Not too much. Keepcup is a fantastic idea and a great product at a great price. I give this travel mug a 8 out of 10 grade!
*Full Disclosure Keepcup Sent me samples to evaluate at no cost to me, this did not reflect the review.