What do you get when you mix real  ingredients, with actual sugar and a commitment to being environmentally friends? Well a tasty treat if you do it right. The fine folks at Savor Sweets  are home to a whole host of  different examples of how to do this right. And they were kind enough to send some samples along to us to try out.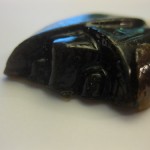 Lets get to the meat and the potatoes (not actual flavors at this time but hey you can contract with them for a specialty flavor… Thanksgiving lollipops anyone?) These are not your garden variety lollipops. the samples that i got where Chai, Black Tea and Espresso. So throw the idea of a sweet citris lolli out of your heads. These are full bodied rich and flavorful.
The Black tea was the first one to go, and I neglected to get pictures of it, because i also gave ti to my wife to try. We both thought it tasted exactly like a nice tall glass of sweet tea. Except with a flavor like that you expect it to be cold. A very strange thing but if you closed your ices you could almost imagine putting a glass of iced tea in your mouth instead of a lollipop.
The second flavor i tried is the Espresso. This one took a couple of seconds to  develop  but made with real espresso a  real  brewed treat came to life in my mouth. It had all the kick of a sweetened cup of black coffee… my Favorite!
And last but most  certainly  not least the Chai flavored Lollipop. This was probably the most off the wall flavor out of the three. It had all the making of a great cup of chai, the rich spices the zing of citrus, but for some reason rather than a piping hot cup of chai it was frozen into a liollipop. It was a rich a nuanced flavor. I loved it just as well.
Other offerings. At this point looking down the list of lollipops they offer i'm  greeted  with such off the wall flavors as Ghost Pepper! and Habanero! I love me some spicy food so i might want to get down on that action soon!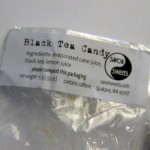 Packaging: Usually when I focus on packaging there is something dazzlings about it but this is brilliant in its simplicity. After you are done eating your tasty candy everything else is compostable. The cellophane is made from wood fibers… who knew a clear tree grows somewhere, just kidding. The labels are printed with compast safe ink, everything! The ribbon used to tie the thing shut, the stick and even the production process are all geared towards creating a low waste savory treat.
Ingredients:  Candy when we were kids tasted  different. Candy from other countries even does. Wonder why? Its the sugar. Most candy in the USA uses Corn Syrup, which like it or not tastes  different  from actual sugar. In my opinion it takes away a lot of the flavor, and the jury is out on what else it may be doing to people. I'd much rather use plain old sugar. And that is all you will find in Savor Sweets. They use real sugar, and natural  flavors. These aren't marketing buzzwords. if you see a lollipop that is easpresso flavoured that means there is espresso all up in it! How novel, how awesome.
I can't recommend these lollipops enough. If you have a coffee nut on your gift list this holiday season… these are the perfect stocking stuffers. Now i can only wait for the inevitable Bacon Lolli!
*Full disclosure the fine folks at Savor Sweets sent me a lovely care package at no cost to me. this did not influence my review one way or another.