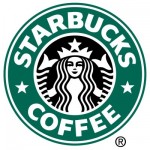 I came home a little bit ago to find an unsolicited package from Starbucks with 4 new products nestled neatly in packing peanuts and newspaper. This is a review of the Doubleshot Light
As per usual all products  submitted  are run through the same process, and judged against a jury of their peers . In this case we are comparing the Doubleshot to other canned coffees
Smell: One of the most fickle things about canned coffee is the smell. Sometimes they smell great others times they smell like a chemical bath. This little shot was the right type of smell. It had a nice coffee smell to it without going overboard.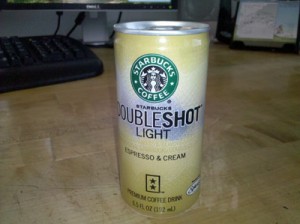 Taste: Stacking up against some of the other Canned coffee's out there the Starbucks light product line is supposed to eliminate the heavy cream taste and calorie load. The espresso did come through the cream taste and the beverage was not overly sweet. I'm pretty  sensitive  to the chemical  sweeteners  used in various beverages so i was happy to see Splenda being the choice here. More often than not Splenda fills in well. While it doesn't have the full round sweetness of sugar, it has no chemical taste to it at all, and is really  quiet  pleasant  to drink.
Cost: Couldn't find that information
Conclusion: I'm not usually the market for cream filled canned coffee, but I would probably try this again if the situation presented itself. I do from time to time resort to a quick fix for my caffeinated needs, and I have avoided the heavy cream versions of these coffees since i'm not overly fond of them, too rich,m too sweet. But this was  neither  of those. I'm also quite fond of this portion size overall for these type of beverages, anything else and it gets overdone.
Rating 3 Beans out of 5 in Canned Coffee
*Full Disclosure:  I was sent a lovely care package at no cost by Starbucks for the purpose of review