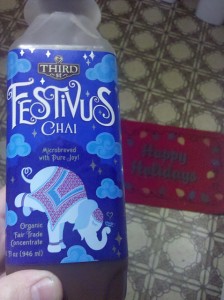 I recently got to try out  Third Street Chai's Wonderful Festivus Chai. Little know fact this Coffee lover also happens to really enjoy Chai and Tea in various forms. If they are done well. This all natural Savory blend comes in at just the right time. Heat a little milk, throw in the concentrate and boom you have a fantastic alternitave to Hot Choloate in terms of creamyness, and a wonderful low caffeine solution for Holiday Nights wrapped in close with your family.
This blend has a full bodied flavor rich in black tea, cocoa, nutmeg and  cardamom, and other flavors all swirling around that I couldn't quite pick out. Fantastic in both hot and cold form, but come on if the weather outside is frightful its time to try some of this delightful  beverage.
Most of you know  Festivus  from Sienfeld, but I wasn't aware that it was an offshoot of a family holiday that has turned into a secular celebration of celebrating. A little wink and a nudge are always included.
A huge thank you to Third Street Chai for Sending this Sample to my doorsteop as the weather turned chilly in Philly. I guess this would classify as a Festivus Miracle? This product is available  exclusively  at Whole Foods!
*Full disclosure: I was sent this sample at no cost for the purpose of review. This did not  affect  my conclusions or was any desired outcome specified