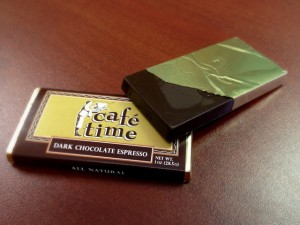 I love me some coffee. Just look around the site. It reeks of the stuff. But I also enjoy a  truly  great dark  chocolate. And the Fine folks at Torn Ranch have just such a product they were kind enough to send my way.
Today's review focuses on the wonderful world of Dark,  Decadent  Chocolate  infused with espresso. These bars were deep, dark and just slightly bitter like Dark Chocolate should be. They had a subtle hint of Coffee flavor to them, just enough to invoke the pairing. Like you had finished a cup of great coffee, and bit into a rich dark chocolate bar.
Smell: These bars were a sensory  experience  all to themselves. Opening the bar wafted a rich and deep. It smells like a brewed mug of coffee was sitting next to but not overpowering the chocolate.
Taste: Heaven… Quite simply some  of  the most rich and decadent chocolate i'v had the  opportunity  to enjoy in a long time. It reminded me more of a dark chocolate truffle than a candy bar. Very rich and delicate flavor. A  hint  of coffee on the  backend, a subtle nudge as the taste starts to leave your  pallet.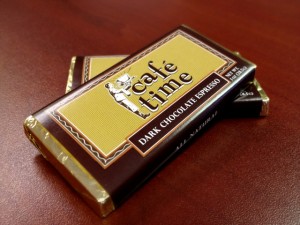 Aftertaste: A slight bitter aftertaste, as is to be expected with Dark chocolate. If you have a chocolate craving this is a one bar shot. I couldn't eat a second one if i tried. Incredibly rich and satisfying.
Cost: These confections are priced as luxury sweets. This isn't a Candy bar, but a taste exploration. And At $2.50 a bar. it would make a very nice gift to the coffee and dark chocolate lover in your life.
My only complaint would be the term espresso. I know its a marketing term but I can't tell and "espresso flavor from a coffee flavor when paired with something as strong as chocolate. It's all semantics in the end but an  unbelievably  tasty treat.
Conclusion:
I would rate this confection an incredibly  satisfying  4 out of 5 beans, ranking it up there with some of the  most  wonderful and tasty tasty teats of the world.
Full Disclosure: I was sent these confections at no cost for the purpose of review. This did not influence my opinion or conclusion in any way.