Podcast: Play in new window | Download
Subscribe: RSS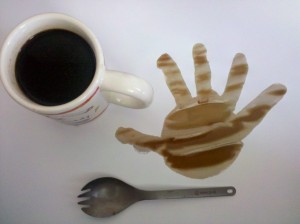 Ain't no party like a CaffiNation Party, cause the CaffiNation Party Gets DOWN
No Hand Turkeys were harmed in the making of this show
So the talking heads have declared tonight the biggest party night of the year. I don't know why that designation has always irked me but even before kids it bothered me. Now it just gives other people and excuse to act stupid. Hows about we call it amateur night and leave it at that?
Tonight I run down a list of things I'm thankful for, as per custom. I also found a load of fun off the wall content to pack into the show. Hopefully this will be enough minutia to get you through a couple of dinners with  relatives, a few shopping trips into the angry mob and a venture online into cyber whatever the marketing drones have  labeled  that day. I'm feeling a little prickly today not sure why.
We touch on the TSA scanner kerfuffle, the naughty bits that need hiding and the wonderful bits the world needs to see. Bits such as a superhero grandmother, a boat made of bacon, a gun for jenga, and a model hobbit home. All awesome little bits of fluff to keep you entertained over the long weekend
Support the CaffiNation: Poster Style
Sponsor: Visit  gotomeeting.com, click the try it free button and use promo code: Podcast.
Geek Cruft
Food and Caffeinated Bits
Many Thanks for listening, Stay Caffeinated!
Phone 215-240-1319 | Twitter @caffination | Facebook Fan Page
Subscribe via | RSS | iTunes | Zune