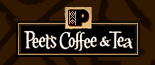 I have reviewed some fine   Peet's Coffee  in the past. And quite frankly Their coffee is always a joy to review. This time around We are looking at their 2012 Anniversary blend.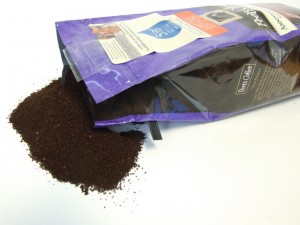 My only complaint for this entire review is that the coffee showed up pre-ground. I  absolutely  love whole bean coffee, it gives me a chance to  truly  taste the coffee in the best  possible  circumstances. But that wasn't the case here. While the blend was nice and bright I yearn to think what it would have tasted like freshly ground. Act quick this blend is only available until May 2012.
This coffee is not just a limited edition produced for their anniversary blend it is also a way for the coffee community to give back to the people who helped make the coffee a reality.Drink a Great Cup, Do a Good Thingâ"¢ campaign. Purchase Peet's Anniversary Blend and Peet's is donating  5% of the proceeds to establish clean water access to communities surrounding Papua New Guinea's Rainforest Alliance Certifiedâ"¢ Korona Plantation, the source of the main coffee in this blend.
Also as an added bonus the fine people at Peets are also running a contest on their facebook page, giving away two $1,000 prizes in the form of donations to the non profit  charity  of your choice, in your name. Pretty nift.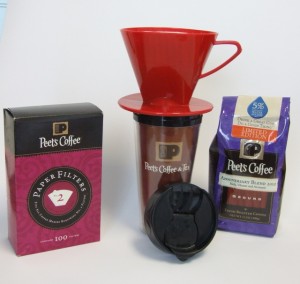 Down to Brass Tacks. How does it taste?
This coffee is a bit special because I tasted it two ways and the first was with the spiffy Pour Over kit that Peet's Sent my way. and the second from a drip brewed machine.
Smell:
Ground this coffee has a bright Smell with minor earthy notes. Small hints of lemon and berries. A definite fresh smell. While brewing and when brewed the smell shifted to favor the lemon and berry notes more than the earthy ones.
Taste:
Overall  this  coffee is a bright and fresh taste. however there is a bit of a dull muted tone to the coffee, which i can only ascribe to being already ground. not much fixing that. The brewed coffee tasted pretty much the same as the pour over. There is a noted bitterness to this cup with a higher than normal acid content, not in an  unpleasant  way just a stronger more defined lemon note coming through. Strong Berries and dried fruit as well.
Aftertaste?
There is a bit of a slightly sour aftertaste with the pour over but not nearly as strong in the brewed coffee. The freshness stays with the coffee as does the lemon note. Not too much on the berries after the fact. A crisp and clean cup with no real bad spots.
Overall I like this coffee as a change of pace coffee. I have been living in the deep earthy coffee's for a while so having something bright fresh and even a little higher in acid is a great switch. To me much more of a morning coffee than an after dinner or late afternoon blend.
As a complete experiment I tried this as an iced coffee. And I have to tell you. this coffee  doesn't  just shine when cold brewed, it is unbelievable. So if you are looking for a great coffee cold brewed I would  definitely  grab some soon! While I liked it brewed as i would my normal methods the cold brewing really pulled out all the fruit flavors and make the blend Glow!
Rate Me?
As is our custom we rate the coffee as it finishes the test track.
I give this coffee 3.5 Beans out of 5. A  respectable  showing
Full Disclosure: I was sent this product at no charge to review. The outcome of my review was not influenced by this.