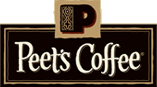 I was recently contacted by representatives of of  Peet's Coffee to try their new  Uzuri African Blend.This is nothing out of the ordinary, but what sets this product apart is the information that accompanied the blend. Peet's Coffee is working with  Technoserve as a way to  promote  and fund sustainable economic development in impoverished  nations. A noble ideal and an interesting concept. All the while promoting the partnership through tasty beverages.
Basically Technoserve works with local farmers to teach them the skills to increase production refine their product and market it more efficiently so that the people responsible for growing the coffee can have a better life.  Technoserve does not seem to limit their activities to coffee, but in this case the proof was in the press pot.
After reading the rest of the review below make sure you enter in to win some for yourself. Deadline March 3rd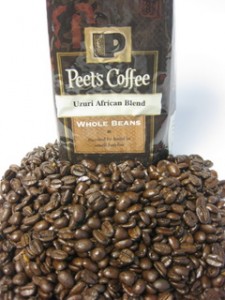 I received a 12 oz bag of the Uzuri African blend which blends coffee's from different East African Nations, and is culled from 6,000 different small scale farms. Peet's also states that coffee is roasted in small batches to enhance the flavor. The coffee is roasted quite dark with pretty uniform oil on the outside of the beans. I would characterize this coffee as a Vienna Roast, very deep brown.
As per usual all coffee's submitted are run through the same process a nice coarse grind and a 4 minute steep in the trust french press.
The Journey
Smell: The Start of your journey
Taste: Obvious and penultimate
Mouthfeel: Besides the taste how does it feel while drinking
Smell: This coffee had a very deep and strong smell. light cocoa touches with heavy berry undertones. It was so strong that upon opening the bag in my office to give it a go I had a coworker knock on the closed door to see what was brewing!
Taste: This blend had a mid level acidity and a good deep  flavor  profile, just a hint of berry in the back of the sip but overall I tasted more of the roast characteristic than the  origin  in this batch. It is a slightly bitter cup which reminds me of berries like currants, or  blackberries. The cup itself was a very dark and deep black when brewed.
Mouthfeel: The Uzuri blend had a  slightly  thick mouthfeel, probably due to the bold  flavors.  This cup also had a strong  aftertaste  and almost a dry feel to it. Not  unpleasant  but still there.
Notes:  Anytime you take the teach a a man to fish philosophy to solving world problems I'm much more of a supporter. This process and this blend are a limited time offer, the blend will only be available through peets till March 31st so get some while the getting is good. Who knows where the skills and help taught and give will takes these farmers in the future.
Cost: The site lists this coffee as selling for 13.95 a pound but the bags are 12 oz bags. So its 13.95 for 12 oz. This is not a slam on these people but the coffee industry as a whole. please remove the lb designation if the bag no longer ships at that weight.
Conclusion: I really liked this coffee, it had the typical boldness of the East African Coffee's while retaining an interesting taste all its own as any well planned blend should. So I can easily recommend this coffee on both karmic and Coffee levels.
My only suggestion would be to fix the date on the side of their  packaging  I couldn't honestly tell when this batch was roasted.
*Full Disclosure:  I was sent a lovely care package at no cost by **** care of Peet's Coffee for review purposes.
Check out the Slide-show or  Flickr for  the  rest of the photos of this tasting