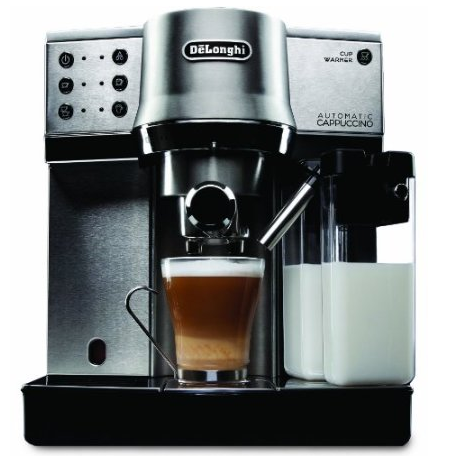 This is a review of the  De'Longhi EC 860  a semi automatic espresso machine with built-in cappuccino and latte functionality. The machine is  programmable  in regards to the duration of the shots of espresso you are pulling and the  temperature  at which you want your espresso prepared at. Overall a very well built machine that I got to take through its paces over an extended test run.
This machine has a very solid feel to it overall. Everything from the portafilter handle have a decent heft to it to the machine itself being fairly well constructed. The only thing i found a bit flimsy was the drip tray and the milk frother / steam wand attachment  area. I was worried with switching between the steam wand and the milk tank that something might get damaged. The drip tray was nice and deep to  accommodate  any spillage or water overrun. But with that depth also comes a smaller place for standard mugs and taller cups overall under the portafilter. I would have preferred a slightly shallower tray with the ability to use  different  mugs under the dispenser.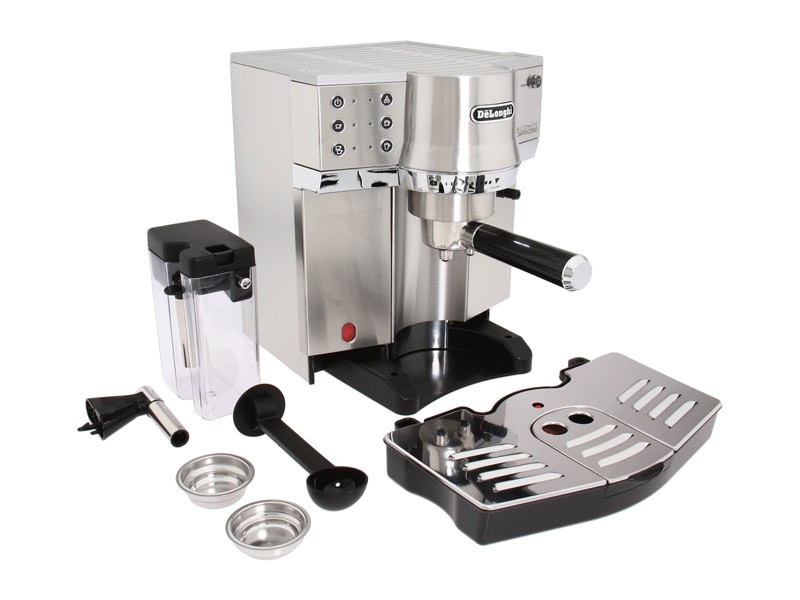 The Good:
If you like espresso based beverages, such as lattes and cappuccinos then you are in for a treat this machine excels in that area. After a bit of reading and setup it is capable of producing very very nice cappuccinos, and lattes, almost automatically. With a good grinder and a little time you can drink your favorite beverages quite quickly. The espresso had a nice crema on top and was a treat to drink once tuned properly.
The Bad:
The Controls. I wanted to love this machines, but it isn't very intuitive. Overall I like it when things are spelled out for me, and easy to use. There is no grey area this is a machine you need to read the instuction booklet, not just the quick start guide to use it properly. After a bit of reading I was able to adjust the espresso temperature, and time per shot, but honestly I think a little more work on the controls would make this machine shine.
The Ugly:
The tamper and spoon combo is handy but very very flimsy. I worry that if someone actually put the required force into tamping down a shot it would snap.
Also the steam wand is a short stubby thing, no angle and very little rotation so if your frothing pitcher isn't too tall you should be fine, I prefer the steam wand to be in a more accessible area.
Conclusion:
This really depends on the type of machine you want, and how you plan to use it. This is a well build machine on whole that rewards the studious. It is  capable  of producing a very nice espresso, at a decent price point for a midrange machine. $499 – $599. If you are an espresso drinker I think you would be better off on a  different  machine, more of a pure espresso machine. However if you enjoy cappuccinos and lattes with reckless abandon this is a very nice and  elegant  solution to your  habit.
So Rather than give one grade as per usual, this will be a choose your own adventure.
If you are an espresso drinker, with a soul as black as your draught. then this machine is a 3 beans out of 5, good but could be better.
If you are a latte loving cappuccino slugging milk based espresso beverage consumer this  machine  is quite  literally  made for your sweet spot. And it would  receive  a 4 out of 5 beans from me.
For a full workup of how the machine operates please be sure to watch the video in the article, I find that video does a much better job of explaining complex functionality than wordsmithing.
Thank you to the fine folks at Delonghi for sharing this  machine  with me for a short time. I'm quite happy to enjoy espresso in massive quantities  and testing out a  machine  such as this was fun work. Hope you enjoyed this, if you'd like to see the  review  of the grinder we used please check out the Breville Smart Grinder!
Video Rundown

Product Link

Full Disclosure: I was provided a demo product at no charge for the purpose of review. Access to the loaner machine in no way effected the outcome of the  review.